Manufacturing equipments enabling various processes
Yamasa's plant locates in Choshi, Chiba in Japan. Choshi plant is consist of laboratory and commercial plant.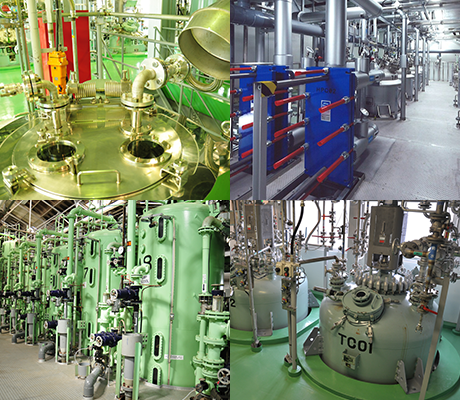 Yamasa possess various sizes of reactors with capacity from a liter to over 2,000 liter and column chromatography, specialized in the isolation of hydrophilic compounds. Furthermore, we select suitable equipment from variety of dryers and particle control equipment in accordance with characteristic of products. APIs and pharmaceutical intermediates are manufactured with the facilities controlled under the GMP management system.
Production Equipment List
| | |
| --- | --- |
| Synthesis equipment | Tank for synthesis (SUS/GL, 220-2,700L), Microorganism culture tank (3-3,000L) |
| Separator | Liquid/liquid separator tank, Tank for crystallization, Column tower, Evaporator, Centrifuge, Filter, Electric dialyzer |
| Dryer | Dryer (conical-type dryer, through-flow dryer, freeze dryer) |
| Mill | Mill (Jet mill, power mill), Sieve |
| Blender | Blender equipped with agitator, V-type blender |
| Others | Process chromatography, autoclave, Homogenizer, Pharmaceutical water production system |
Analytical Instruments
| | |
| --- | --- |
| High performance liquid chromatography (HPLC) | Thermogravimetry-differential thermal analyzer |
| Gas chromatography (GC) | Melting point apparatus |
| Liquid chromatography-mass spectrometer | Laser diffraction particle size analyzer |
| Nuclear magnetic resonance spectrometer (500MHz) | Karl Fischer moisture titrator |
| Infrared spectrophotometer (IR) | Viscometer |
| Ultraviolet-visible spectrophotometer (UV/Vis) | Salinometer |
| Fluorescence spectrophotometer | Total organic carbon analyzer |
| Atomic absorption photometer | Potentiometric titrator |
| Polarimeter | Exhaust gas analyzer |
| Elemental analyzer | Carbohydrate analyzer |
| Differential scanning calorimeter | |
Inquiry by telephone
(Reception hours 9:00~17:30)