What is Nucleic acid?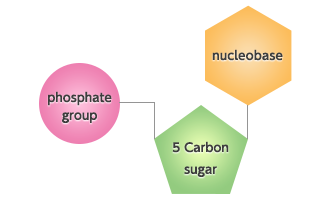 Nucleic acid is a generic term for DNA (deoxyribonucleic acid) and RNA (ribonucleic acid). DNA and RNA are biopolymers essential to life, and are composed of four kinds of "nucleotides". Protein, which is an important substance of life, is synthesized according to genetic information coded in DNA. The nucleotides are made of three components of a nucleobase, a five-carbon sugar and a phosphate group.
Five-carbon sugars composing DNA and RNA are 2-deoxyribose and ribose, respectively. The structural difference in these sugars is whether they have hydroxyl group at the 2'-position.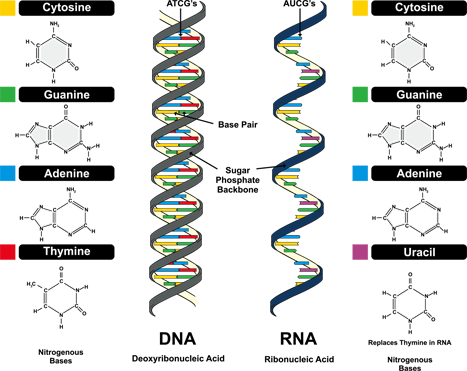 There are four kinds of nucleobase for DNA, adenine (A), cytosine (C), guanine (G), and thymine (T), and AT or GC pairs make double helix structure.
RNA's nucleobases are adenine (A), cytosine (C), guanine (G), and uracil (U) and RNA is single stranded.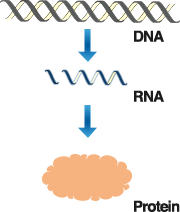 RNA is transcribed from DNA in cell nucleus. Part of RNA is transported into cytoplasm, and then translated into amino acid sequence of a protein according to base sequence.
Nucleic acid related compounds show pharmacological and physiological effect. Modified nucleosides and nucleotides are used as active pharmaceutical ingredients (APIs) for such drugs as anti-cancer and anti-virus. Currently, therapeutic oligonucleotides are pushed into the spotlight. Therapeutic oligonucleotides are presented by molecules of antisense, siRNA, aptamer and decoy. These oligonucleotides are consisted of nucleotides including modified nucleotides. Since natural nucleosides and nucleotides also show various physiological and functional benefits, they are used as food additives, cosmetic ingredients and industrial products.
Yamasa manufactures nucleotides by the RNA degradation method* using RNA as a raw material which is extracted from torula yeast. Yamasa manufactures various nucleic acid related compounds from these nucleotides by enzymatic synthesis and chemical synthesis. Yamasa also manufactures nucleic acid related compounds from raw materials other than nucleotides.
*RNA degradation method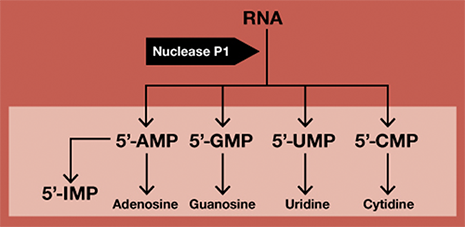 The nucleic acid degradation method follows the steps of (1) hydrolyzing yeast RNA with Nuclease P1 to produce 5'-AMP, 5'-CMP, 5'-GMP and 5'-UMP and (2) separating and refining these 5'-nucleotides using ion-exchange column chromatography. 5'-IMP is converted from 5'-AMP by adenylate deaminase.
Inquiry by telephone
(Reception hours 9:00~17:30)